Use the information on this page to access a Notice of Award in eRA Commons
The Notice of Award (NoA) is the official grant award document notifying the grantee and others that an award has been made. The NoA contains all terms and conditions of the grant award and provides the support documentation for recording the obligation of federal funds in the agency's accounting system.
NoAs are sent to the specified email address entered in the NoA email field by the grantee organization when completing the eRA Commons registration process. The signing official can update this email address through the Institutional Profile section in eRA Commons. The NoA can also be viewed from the Status Information page in eRA Commons; look in the Other Relevant Documents section.
Basic Tasks (step-by-step instructions from the online help)*
Log into Commons.
Select Status from the Commons menu.
Select the List of Applications/Awards section.
Select the application ID link for the specific application.
The Status Information screen displays. The screen includes a section called Other Relevant Documents. This section houses links to various application-related documents, including the NOA. The NOA link is displayed as a date next to the field titled Notice(s) of Grant Award (PDF).
Select the NOA date link. It will open in a separate window.
* You must be logged into eRA Commons with appropriate role(s) to complete these activities. 
Main Screenshot
Click on the thumbnail image to expand to full view.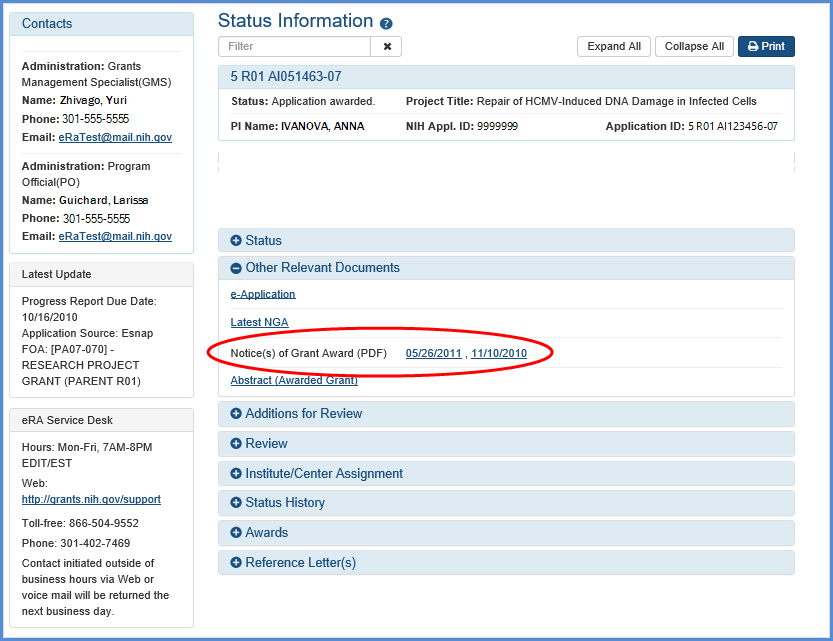 Figure 1: Detailed Status Information screen showing the Notice of Award (NoA) link in the Other Relevant Documents section
Additional Resources
Policy