Revised 6/19/2018
Policy: Closeout policy information
Closeout is a feature that allows a grantee to electronically file the information necessary to complete grant closeout requirements. It interfaces with the Closeout system used by Agency staff to track and monitor this business process. NIH will close out grants as soon as possible after expiration of a grant that is not to be extended or after termination of a grant. Closeout includes timely submission of all required reports and adjustments for amounts due the grantee or NIH. Closeout of a grant does not automatically cancel any requirements for property accountability, record retention, or financial accountability. Following Closeout, the grantee remains obligated to return funds due, because of later refunds, corrections, or other transactions, and the Federal Government may recover amounts based on the results of an audit covering any part of the period of grant support.
If you hold an SO, PI, or FSR role, you can access the Closeout Status screen to perform the following:
Track your grants that are in Closed status
Submit reports required for closeout
Submit any requested additional material (FRAM) related to your Final Research Performance Progress Report (Final RPPR)
Access the FFR module of Commons to initiate and submit Federal Financial Reports (you must hold an FSR role)
The Closeout Status screen is accessed via links on the Status result screens (Status Result - Closeout or Status Result - General Search for SOs; Status Result - List of Applications/Grants for PIs).
The links you may see on your results screen include:
Requires Closeout

: Grant has not completed the closeout process

Closed

: Grant has completed the closeout process

In Unilateral Closeout

: Grant is currently in the process of being unilaterally closed (see note below)

Unilaterally Closed

Grant has been unilaterally closed by the IC (see note below)
At the top of the Closeout Status screen, the following Application Information displays:
Grant Number
PI Name
Closeout Contact Name
Closeout Contact Email
Closeout Contact Phone
Project Period
Proposal Title
Below this information is the Closeout Submission Requirement including Instruction, Status of the requirement, Result of Actions, and Date of action. Also included are the available Action link(s), which vary and may include:
Refer to the related topics for more information about FFR, Final Research Performance Progress Report, and Final Invention Statements.
IMPORTANT: At the top of the screen, text will indicate if the grant is in unilateral closeout or has been unilaterally closed, as applicable, and the date on which this occurred. While In Unilateral Closeout, links will be available in the Action column unless they have been closed by Grants Management Staff, in which case you will not see the links. When Unilaterally Closed, links will not be available. The message on the screen indicates whether links have been disabled.
IMPORTANT: eRA has recently updated the Closeout screens for PIs (and delegates) based on our new standards. SOs will see similar changes in a future release. Refer to the appropriate steps and images provided for your eRA Commons role.

Click here to view a sample of Closeout for an PI.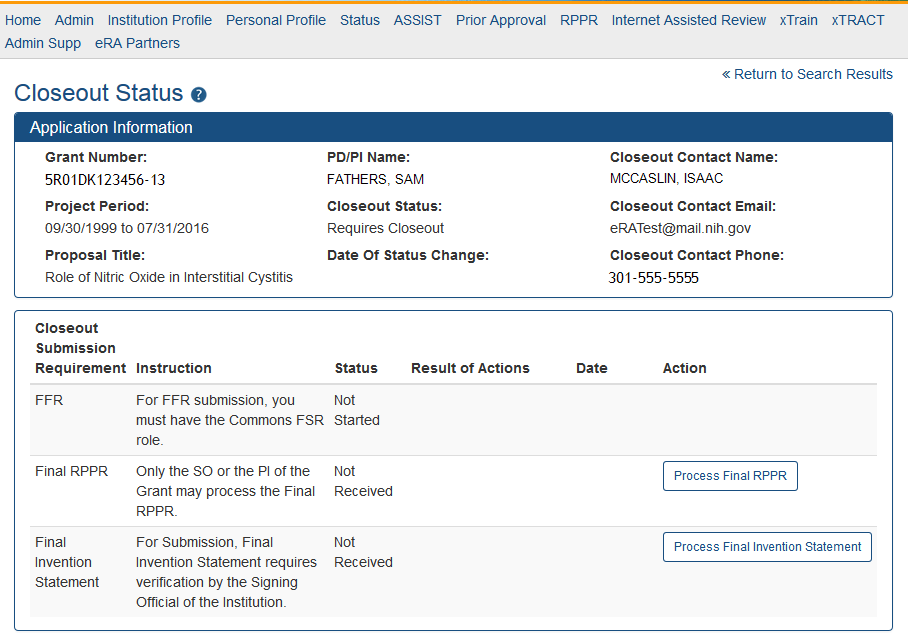 Click here to view a sample of Closeout for an SO.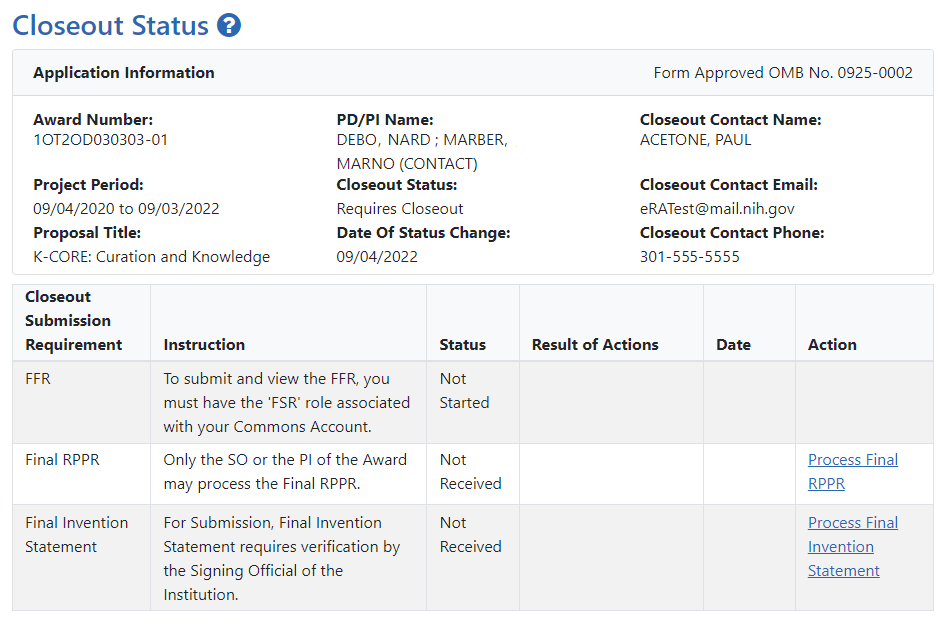 Click here to view a sample of Closeout for an SO with CDC.