Steps for AOR/SO to Check Submission Status
Looking for help on the JIT Search page below? If you are an SO doing a JIT search, click here. If you are VA Agency Staff, click here.

Signing Officials can check the status of the applications that have been submitted for their organization using the Status module in eRA Commons.
Steps:
Log in to eRA Commons with your Signing Official (SO) account username and password.
Navigate to the Status module and click the "Recent/Pending eSubmissions" search option in the left hand navigation.
Enter desired search criteria and click the "Search" button. The search criteria options are;

Accession Number
Grants.gov Tracking #
eSubmission Status (Select from drop-down)

All
Pending Verification
Rejected
Received Date

You can enter a range of dates for the received date using the "From" and "To" fields. Either enter the date(s) manually in the MM/DD/YYYY format or by clicking the calendar icon to search and select a date from the calendar.

Click to view the search screen...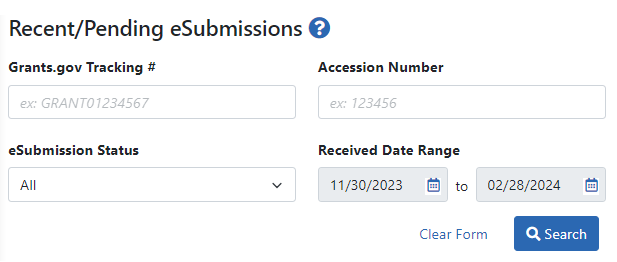 The corresponding search results include all appropriate links for the applications. These are the same links that appear in the Status Result - General Search results. Refer to the help topic titled Status Result - General Search for information on search results.