Revised 6/19/2018
Steps for AOR/SO to Check Submission Status
Utilizing eRA Commons, all Signing Officials are able to check the status of the applications that have been submitted for their organization.
Steps:
Login to eRA Commons with your Signing Official (SO) account username and password.
Click the "Status" tab and select the "Recent/Pending eSubmissions" search option in the left hand navigation.
Enter desired search criteria and hit the "Search" button. The search criteria options are;

Accession Number
Grants.gov Tracking #
eSubmission Status (Select from drop-down)

All
Pending Verification
Rejected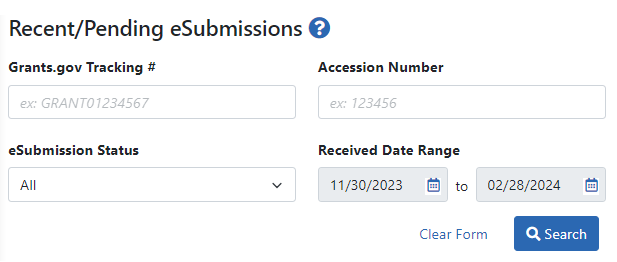 The corresponding search results include all appropriate links for the applications. These are the same links that appear in the Status Result - General Search results. Refer to the help topic titled Status Result - General Search for information on search results.