Powering the Advancement of Science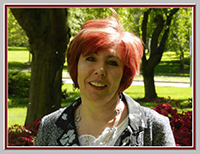 eRA Program Manager Inna Faenson
Developed, managed and supported by NIH's Office of Extramural Research, eRA provides critical IT infrastructure to manage the receipt, processing, review, award and monitoring of over $30 billion in research and non-research grants awarded annually by NIH and other grantor agencies in support of the collective mission of improving human health.
eRA is often at the crux of important changes in policy and process. It is the largest research grants management system in the federal government in terms of the number of applications, accounting for over 50 percent of the grant applications received by Grants.gov, the fed-wide portal for finding and applying for grants.
eRA provides IT solutions and support for the full life cycle of grants administration functions for the NIH as well as the Agency for Healthcare Research and Quality (AHRQ), the Centers for Disease Control and Prevention (CDC), the Food and Drug Administration (FDA), the Substance Abuse and Mental Health Services Administration (SAMHSA), and the Veterans Health Administration (VHA).
Here are some numbers that show the breadth and complexity of the eRA Program:
Used by over 175,000 external users in over 28,000 research institutions, both domestic and worldwide (FY2014 numbers)
Used by 4,600 NIH staff as well as 700 partnering agency staff
Processes over 76,000 grant applications each year
Administers more than 52,000 awarded competing and non-competing grants
Maintains patent and invention records for over 30 federal agencies (see iEdison website).
Supported by 65 eRA federal staff and over 150 contractors, who are responsible for more than 30 custom systems that manage extramural grants processing, from receipt of grant applications to closeout and reporting
Manages about 105 terabytes of extramural data (FY2012 numbers) (Note that one terabyte is equal to 1,000 gigabytes)
Recorded 10.7 million log-ins to eRA systems in FY2012
eRA's focus is on supporting the mission of serviced agencies by providing tools to electronically manage and report on grants in a way that:
Maximizes efficiencies
Provides a strong and scalable infrastructure
Is responsive to evolving customer needs
Employs sound management controls
---
For institutional enquiries about obtaining eRA services and information on eRA's costing model, contact the eRA Program manager, Inna Faenson, at faensoni@od.nih.gov.
eRA is engaging in business process modeling, a process that can successfully be implemented for other complex enterprise systems. If you are interested in finding out more, here is a link to a white paper (PDF - 623 KB) on an undertaking by eRA, in collaboration with other Institutes across NIH, to model the Peer Review process.