Overview of electronic Research Administration (eRA)
Powering the Advancement of Science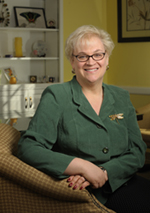 "eRA plays a fundamental role in the stewardship of federal grant programs by supporting the mission-critical function of grants administration for NIH and other Federal granting components."
— Dr. Sally Rockey, PhD.,
NIH Deputy Director for Extramural Research
---
Developed, managed and supported by NIH's Office of Extramural Research, the eRA systems provide information technology solutions and support for the full life cycle of grants administration functions for the NIH as well as the Agency for Healthcare Research and Quality (AHRQ), Centers for Disease Control and Prevention (CDC), Food and Drug Administration (FDA), the Substance Abuse and Mental Health Services Administration (SAMHSA), and the Veterans Health Administration (VHA).
eRA offers vital solutions to manage the receipt, processing, review, award and monitoring of over $30 billion in research and non-research grants awarded annually by NIH and other grantor agencies in support of the collective mission of improving human health. Used by Federal staff and applicants at over 9,500 institutions worldwide, eRA is working to eliminate the hundreds of millions of pieces of paper previously required to:
Record, review and process over 80,000 applications each year.
Support more than 3,500 review meetings held annually.
Administer more than 55,000 awarded competing and non-competing grants.
Maintain patent and invention records for 25 Federal agencies (see iEdison website).
Support thousands of applicant interactions with the Federal Government before and after the grant award, through the eRA online interface.
eRA's focus is on supporting the mission of serviced agencies by providing tools to electronically manage and report on grants in a way that:
Maximizes efficiencies
Provides a strong and scaleable infrastructure
Is responsive to evolving customer needs
Employs sound management controls
eRA systems align with Grants.gov (the one-stop web portal for finding and applying for federal grants), allowing for full electronic processing of grant applications from application submission through closeout of the grant award.


For institutional enquiries about obtaining eRA services and information on eRA's costing model, contact the Acting eRA Program manager, Inna Faenson, at faensoni@od.nih.gov.

eRA is engaging in business process modeling, a process that can successfully be implemented for other complex enterprise systems. If you are interested in finding out more, here is a link to a white paper (PDF - 623 KB) on a recent undertaking by eRA , in collaboration with other Institutes across NIH, to model the Peer Review process.
---
This page last reviewed: April 10, 2013